The typical classroom today is noisy and distracting. Sneezing, coughing, shuffling papers, hall traffic, open windows, airplanes, busy roads, fans, humming lights, miscellaneous electronics, tile floors, etc. all add to the distraction level for learning students.
The Proven Audio system enhances the teacher's voice, evenly distributing it throughout the learning environment. In "Classroom Amplification: Not Just for the Hearing Impaired Anymore," Lori Hubble Dahlquist estimates that 75% of the school day is spent engaged in listening activities.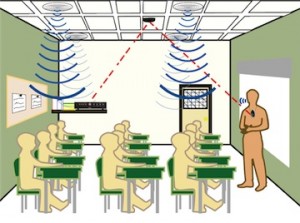 The Mainstream Amplification Resource Room Study (MARRS Project) showed that amplification of the teacher's voice resulted in significant improvement in academic achievement test scores. Audio enhancement is recognized as one of the key technologies benefiting students in today's classroom.
Audio enhancement is the use of an infrared wireless microphone system in a learning environment to distribute the teacher's natural voice throughout the room, so that every student can hear better and perform better.
Proven Audio in the classroom has far reaching effects.  When students hear better, they learn better, improving comprehension, articulation, and confidence–skills they will carry with them for the rest of their lives.
Teacher Microphone Sound System
Teacher + Student Microphone Sound System
Multi-Classroom SAFE Sound System
Comparison Chart
See which system best fits your classroom needs:
| | | | |
| --- | --- | --- | --- |
| Features | Teacher | Teacher + Student | Portable |
| Speakers | 4 | 4 | 1 |
| IR Wireless Microphone | 1 | 2 | 2 |
| Channels | 2 | 2 | 2 |
| Aux Inputs | 3 | 3 | 2 |
| Watts of Power | 32 | 32 | 10 |
| SAFE System-Enabled | Yes | Yes | No |